In 2008, Hafei will adopt an active and open development path of "internal and external cooperation" under the established strategy of "producing a big micro-vehicle and strengthening its cars". Internal comprehensive integration and improvement will be carried out, and external joint ventures will be carried out to seek greater development.
When car companies are doing their best to prepare for the new year, the market performance is not very strong microcar companies last year, of course, will not miss the opportunity to flex its muscles in 2008.
Hafei Motors is such a company that has meticulously carried out basic construction in 2007 and intends to achieve a major turnaround this year.
On January 4th, Hafei's micro-car model Lobo was introduced into the market. The new generation of fuel-saving π was launched in Beijing, which opened the market layout of Hafei Motors in 2008. On January 7 after 3 days, Hafei The automobile also held the 2008 business conference in Dalian with the theme of "Conspiracy to create a win-win situation together".
"In 2008, Hafei's goal was to build the company into a large enterprise with a dominant position in the mini-vehicle market. We firmly believe that Hafei Motors will sit in the position of the industry leader. Hafei's production and sales target for 2008 is 270,000 units." Hafei's new director Chang Liangang just emphasized the 2008 strategic goals of Hafei Motors at the business conference.
Lian Gang believes that in 2008, Hafei will comprehensively improve its product development, cost control, marketing, internal management, mechanism, and network under the established development strategy to achieve the development goals of Hafei Motor in 2008.
To be "market-oriented"
As the deputy general manager of the group responsible for sales from SAIC-GM-Wuling to Hafei, Cao Zhigang witnessed the way the Wuling minibus traveled over the past few years and saw the success of Wuling. This sales veteran's resume spans every submarket from mini-vehicles to 15-ton heavy-duty commercial vehicles, and of course it has very good skills for mini-vehicle marketing.
Before the commercial conference, Hafei Lobo fuel-efficient π listed on the scene, in the face of the reporter many Hafei future development issues, Cao Zhigang's most used word is "market-oriented."
In explaining "marketization," Cao Zhigang used the words "smart marketing" and "terminal management." "Wuling is a very marketable company." The Wuling salesman has achieved very successful sales experience, and his experience is that Hafei needs it.
Cao Zhigang believes that Hafei has accumulated a solid foundation in the micro-vehicle market for many years, and its product R&D strength is strong, but it is not enough in terms of marketization. Strengthen market orientation and marketing orientation. This is the biggest move that Cao Zhigang's new appointment will bring to Hafei. It seems to be the most common measure, but in fact it is a good medicine for reconstructing Hafei.
In fact, this is the main tone of Hafei's 2008 business conference. The replacement of Hafei's leadership team was intended to strengthen the strong improvement in marketing and marketing to recapture Hafei's past glory in the mini vehicle market.
"There are many opportunities in the market. The key is to find out and find out what to look for." Cao Zhigang, the newcomer to Hafei, claimed that he would use his actions to get a good relationship with the dealers and the media to discuss the development of Hafei.
Cao Zhigang told the reporter that Hafei has the advantage of a minicar. This is Hafei's expertise and the sedan is not strong, but the established strategy of Hafei's strong sedan will not change. Saibao has encountered some difficulties in the market and has already begun to fully respond to it. The leopard that changed the money in 2008 will be listed. In 2008, Hafei must fully advance in the micro-vehicle, sedan, and MPV segment markets, which all require more market-oriented operations.
Seeking "inside and out"
The haze of joint ventures and cooperation between Hafei and Hafei did not affect Hafei's established development strategy. On the contrary, Hafei will adopt an active and open "inside-outside" development path based on the principle of "big minibuses and strong cars". Internal comprehensive improvement and external joint ventures to seek greater development.
At this business conference, Hafei's development layout and concrete measures in 2008 were very objective and pragmatic. In addition to focusing on internal mechanisms, management, dealer network and policy adjustments, costs, and quality control, external joint ventures will make progress.
In fact, as an independent brand, Hafei did not exclude joint ventures in its initial development strategy. Former chairman Liu Tao emphasized on many occasions that Hafei did not rule out the possibility of a joint venture. Just as the company had just said at the business conference, Hafei will use a positive and open attitude to integrate into the great development of China's auto industry.
Although Lien did not disclose more about joint ventures and cooperation matters, he said: "The joint venture and cooperation with foreign companies are proceeding smoothly. We will see the results we are willing to see in 2008." This reflects Hafei's idea that the joint venture has never been ruled out. Turning to concrete and concrete actions, it can be seen that this transition will be a real turning point for Hafei's future development.
Even Li Gang has a specific analysis of this shift: In the past, more emphasis was placed on national car complexes. In fact, without open cooperation, national cars cannot develop rapidly. Hafei's cooperation with foreign countries is to enhance the brand; internal and domestic technologies, The big companies that have the advantage of management will cooperate to achieve "create a win-win situation."
"We will use the joint venture and cooperation in 2008 to vigorously upgrade Hafei's brand and products, to better understand the geographic and product image of Hafei. At the same time, distributor policies will be subject to major adjustments." Chen Yubao, general manager of Hafei's new sales, believes Hafei is new The year of joint venture cooperation will bring good opportunities for new development.
Of course, how can the joint venture with PSA on light commercial vehicles enhance Hafei's brand? How can Dongfeng's shares bring about changes to Hafei? It is too early to discuss this, but Hafei has taken a big step in seeking new development paths.
Want to power 2008
In 2007, Hafei Automobile produced and sold 250,000 vehicles and continued to maintain its ninth position in the industry. Although there were some ups and downs in the company, even the company just thought that the ups and downs of the enterprises were regular and normal. In addition, Hafei has a very strong R&D strength. In 2007, Hafei Automobile encountered some difficulties, mainly due to the widening of its product line, redistribution and investment of resources and elements, which made Hafei's focus on the micro-vehicle market in the past have been affected.
"In 2008, Hafei will pay close attention to cost control and management, focus on rectifying marketing work, adjust business policies, strengthen dealer development, and achieve the goal of 270,000 vehicles this year."
In terms of product layout, Hafei will attack the mid-range mini-vehicle market with 1.1L Hafei public opinion and public opinion II generation. In terms of micro-cabinet, Hafei Lobo products will be broadened, and the fuel-saving π that has just been listed will be the bright spot of Hafei Micro-car in 2008.
At the same time, Hafei Motor will continue to enrich its product lines. The new generation of high-end mini vehicle HF10, replacement models of Hafei Racing, and Hafei Lobo equipped with automatic transmission will also be available in 2008; it is understood that the Saibao series will likely be launched in 2008 as well. Improve the money and regain the car market.
At the time of Lubao's fuel-saving π listing before the business conference, Zhang Weicheng, chief marketing officer of Hafei Motor Sales Corporation, told reporters that Beijing is one of the most important markets for Hafei. Beijing will implement the national IV emission standards this year. All Hafei models have been achieved. National IV standard.
2008 will be the key year for Hafei's automotive marketing. Based on a number of basic work in 2007, it will study the market segments and improve the management and promotion model based on the different characteristics of mini-vehicles and cars to further ensure the common interests of Hafei Motors and distributors. , improve service.
The basic construction in 2007 has pave the way for this year's development. In 2008, Hafei may be able to reproduce the swift and violent prestige of the "Northeast Tiger."
View related topics: Dongfeng Group announced that it will hold "Hafei"
PD Toys plastic Co., Ltd is OEM & ODM manufacturer of inflatable products in the mainland of China with more 17 years of manufacturing experience. products ranges are Inflatable Toys, inflatable pools, Inflatable Pool floats, towable tubes, Air Furniture and Promotional Items etc. total have more than 1500 employees (4 factories) related to PVC inflatable products.
Operated under ISO 9001:2015 management system, We had passed factory Audit by Walmart, Taret, Disney ect, also passed all necessary certificates and testing such as ICTI, BSCI, SEMTA,Target FA, NBC Universal, FCCA, SGS, CVS Security, GSV, Disney FAMA ect. We have our own PVC raw materials manufacturing company, all the PVC we produced are compliance with European EN71, American ASTM standard and NON PHTHALATE (6P) standard.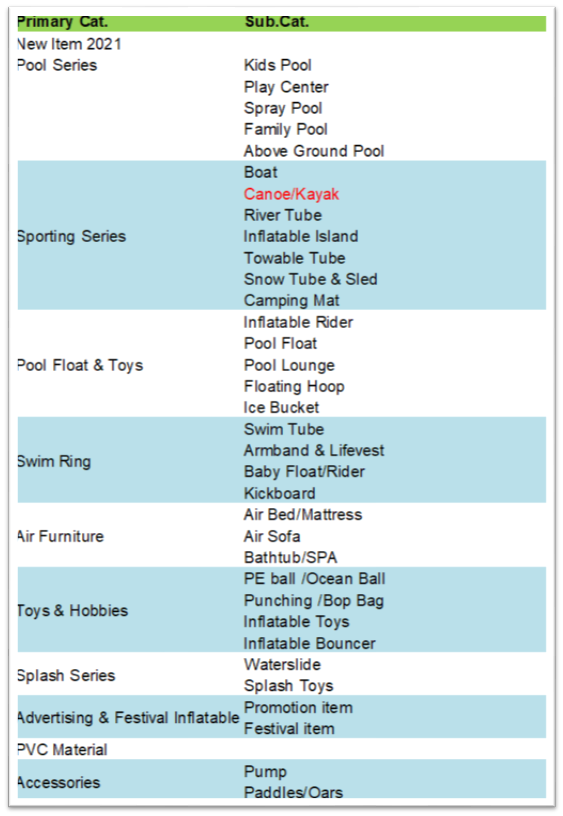 Inflatable Ice Bucket,Floating Bar,Inflatable Cup Holder,Cup Floats
P&D Plastic Manufacture Co., Ltd , https://www.pdinflatable.com