Max Operation Range:
5000-5800rpm
Transport Package:
Carton Box
Specification:
878*343*1077mm
9.9hp/15hp power marine engine outboard motor for fishing boats and multi application
You want power. You want performance. You want portability. You want CalonGloria.
CalonGloria gives boaters exactly what they need for 2 stroke 20hp: more power and less weight! All of these truly portable models offer an incredible horsepower-to-weight ratio. Whatever your boating application, these are the ultimate outboards for convenience, reliability and portability.
The T15 is a standout in CalonGloria's portable range and has proven to be one of customers favorite outboards. Light weight and easy to transport the T15 has a reputation built on years of reliable and powerful performance.For boaters who want to cruise to their favorite fishing spot with speed and confidence, the T15 is the perfect motor.
Light weight and easy to transport.

Great for car toppers, small fishing rigs, inflatables and tenders.

High grade marine aluminum alloy that provides the ultimate protection against corrosion.

 
CDI ignition provides automatic spark advance to provide maximum power throughout the whole RPM range.
Loop charging boosts power and fuel efficiency. 
Comes standard with shallow water drive, an extremely useful feature when tackling rivers, estuaries and creeks. 
Truly six layers of paint, good corrosion resistance.
Available in:Â 
T15BMS- Manual Start, Tiller Handle, Transom height - Short shaft
T15BML- Manual Start, Tiller Handle, Transom height - Long shaft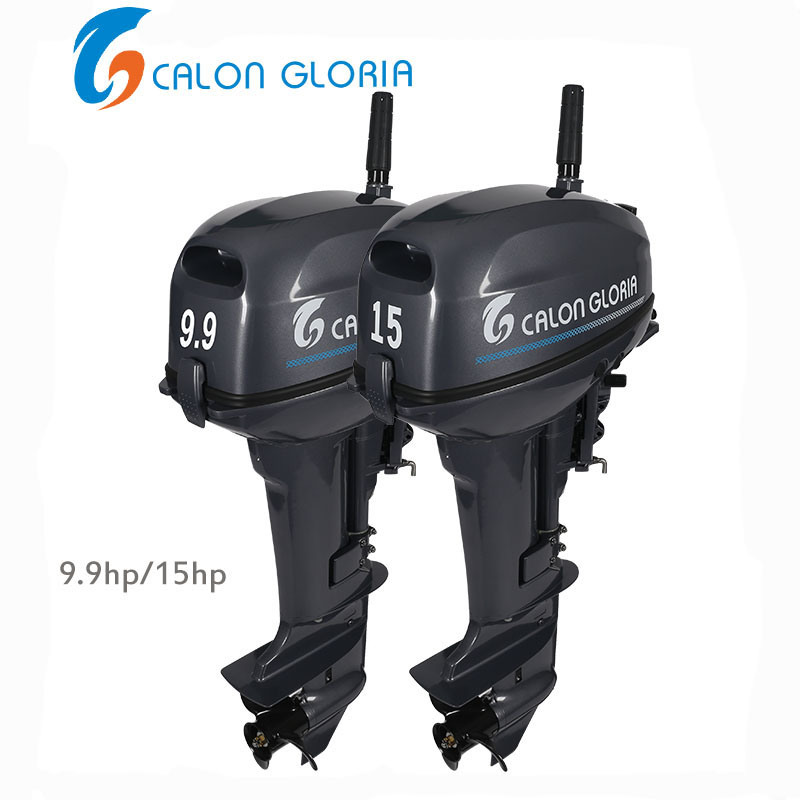 Features:
Pre mix 50:1
24 L Fuel tank & hose 
Shallow water drive
Specification
Model  
T15
Type
2 Stroke
Maximum output
15hp (11kw)
Dimensions
S:873×332×1040 
L:873×332×1167
Weight
S: 36Â  L:38
Maximum operating range
5000-6000
Number of cylinder
2
Bore x Stroke
56 x 50
Displacement
246
Engine lubrication system
Premixed Fuel
Cooling system
Water/Thermostatic Control
Starting system
Manual Start
Ignition
CDI
Fuel tank capacity
12
Speed control
Twist grip type
Gear ratio
2.08 (13:27)
Gear Shift
F-N-R
A CRANKSHAFT-RELATED TO CRANK-IS A MECHANICAL PART ABLE TO PERFORM A CONVERSION BETWEEN RECIPROCATING MOTION AND ROTATIONAL MOTION. IN A RECIPROCATING ENGINE, IT TRANSLATES RECIPROCATING MOTION OF THE PISTON INTO ROTATIONAL MOTION; WHEREAS IN A RECIPROCATING COMPRESSOR, IT CONVERTS THE ROTATIONAL MOTION INTO RECIPROCATING MOTION. IN ORDER TO DO THE CONVERSION BETWEEN TWO MOTIONS, THE CRANKSHAFT HAS "CRANK THROWS" OR "CRANKPINS", ADDITIONAL BEARING SURFACES WHOSE AXIS IS OFFSET FROM THAT OF THE CRANK, TO WHICH THE "BIG ENDS" OF THE CONNECTING RODS FROM EACH CYLINDER ATTACH.
IT IS TYPICALLY CONNECTED TO A FLYWHEEL TO REDUCE THE PULSATION CHARACTERISTIC OF THE FOUR-STROKE CYCLE, AND SOMETIMES A TORSIONAL OR VIBRATIONAL DAMPER AT THE OPPOSITE END, TO REDUCE THE TORSIONAL VIBRATIONS OFTEN CAUSED ALONG THE LENGTH OF THE CRANKSHAFT BY THE CYLINDERS FARTHEST FROM THE OUTPUT END ACTING ON THE TORSIONAL ELASTICITY OF THE METAL.
THE CRANKSHAFT, SOMETIMES CASUALLY CALLED THE CRANK, IS THE PART OF AN ENGINE WHICH CHANGES THE UP AND DOWN MOTION OF THE PISTONS INTO ROTATION.TO CONVERT THE MOTION, THE CRANKSHAFT HAS ONE OR MORE OFFSET SHAFTS.
Stainless Steel Crank Shaft,Engine Crankshaft,Forged Crankshaft,Car Crankshaft
Ningbo zhongwang auto fittings co.,ltd , https://www.zowoparts.com